I am so bummed! Maggie started gymnastics on Wednesday. A good friend of my husband (they went to middle/high school together) just bought and opened the gymnastics studio here in our town. We have been waiting, not so patiently! for it to finally open. Maggie had a blast. I took lots of pictures. Lots of great pictures. But in the middle of my snapping frenzy I got a message on my camera telling me my card needs to be formatted. I can not get any of the pictures off the card. I don't know why this happened. I have used this card many times before. I am hoping my friend
Christine
can help me recover them.
On top of not getting to pull those pictures off I can not get our pics of making our worm farm or any of the other cool stuff I've taken pictures of in the last two weeks.
We have been working diligently on the Dirt lesson from
Lesson Pathways
. Maggie has been having a total blast. We are getting ready to start on Rocks next. You know, its pretty funny to watch your sweet little girl dressed in a Disney Princess gown digging in the dirt. She is a prissy tomboy, if there is such a thing!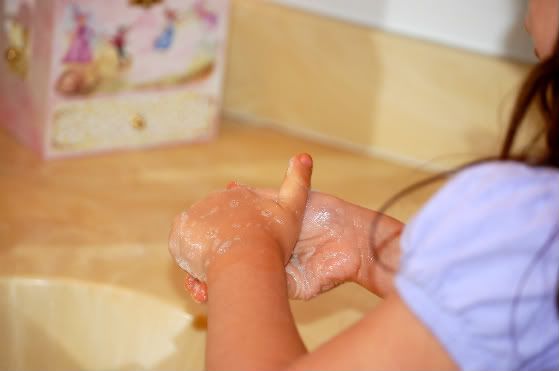 Another thing we have been really working on is hand washing. Maggie is good about washing after using the restroom, but I'm really trying to get her to do it a little more often. With cold and flu season upon us I am really stressing how important it is to wash up. She is really starting to do a good job! In between her fingers, scrubbing at least 20 seconds. The best part (in her mind) is getting to put lotion on afterwards.
I have come to realise that a lot of people do not really know
how
to wash their hands, so I took this info from the CDC. Hope it helps you keep the bugs away!
Keeping hands clean is one of the most important steps we can take to avoid getting sick and spreading germs to others. It is best to wash your hands with soap and clean running water for 20 seconds. However, if soap and clean water are not available, use an alcohol-based product to clean your hands. Alcohol-based hand rubs significantly reduce the number of germs on skin and are fast acting.
When washing hands with soap and water:
Wet your hands with clean running water and apply soap. Use warm water if it is available.
Rub hands together to make a lather and scrub all surfaces.
Continue rubbing hands for 20 seconds. Need a timer? Imagine singing "Happy Birthday" twice through to a friend!
Rinse hands well under running water
Dry your hands using a paper towel or air dryer. If possible, use your paper towel to turn off the faucet
Remember: If soap and water are not available, use alcohol-based gel to clean hands.

When using an alcohol-based hand sanitizer:
Apply product to the palm of one hand
Rub hands together
Rub the product over all surfaces of hands and fingers until hands are dry.

When should you wash your hands?

Before preparing or eating food
After going to the bathroom
After changing diapers or cleaning up a child who has gone to the bathroom
Before and after tending to someone who is sick
After blowing your nose, coughing, or sneezing
After handling an animal or animal waste
After handling garbage
Before and after treating a cut or wound