Last night I threw together some homemade muesli for breakfast this morning. I didn't use a recipe, just threw stuff into a container and mixed it up. The main ingredient was Oats. I then cut up walnuts & pecans into halves, coconut, dried pineapple, dried papaya, dried apples, dried strawberries, raisins and cranberries added in wheat germ. The only thing I bought for it when I was out was the papaya and pineapple. I soaked it in milk overnight in the fridge. Couldn't wait until it was time for breakfast. I poured the milk it soaked in along with the muesli into a pan and warmed it up! It was really yummy! Here are some pictures......
cutting up ingredients: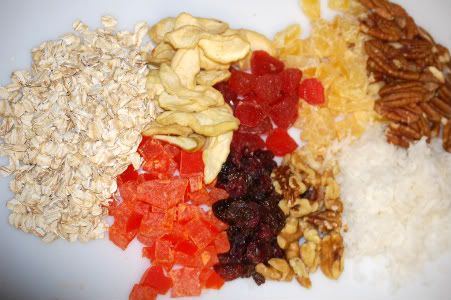 soaking in milk ready to go in fridge for the night:
Cooked.....ready to eat!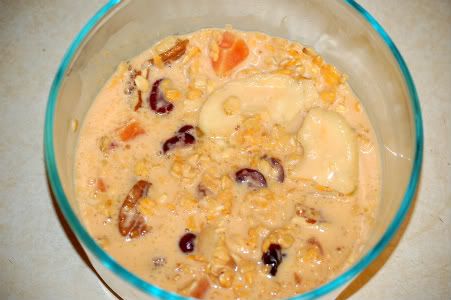 My belly is full and content! Try it. It's economical, its nutritious. Use what you already have in your pantry!
If you make it, what do you put in yours?