We finally got started on the chicken coop. After many drawings and discussions about what the coop was going to be like we went with the complete opposite of what we were going to do.
Originally the coop was going to sit at the top of my garden area. But we are getting new neighbors and aren't too sure how they will respond to having chickens right next to their bedroom window. So instead I will use that space to make my garden larger this coming Spring which excites me to no end! It's a rather large space and I figure I can do a lot of planting when the time comes!
We decided to move the coop to the opposite side of the house. Our neighbors on that side are awesome, and they are excited about getting fresh eggs so when we asked how they would feel about having the chickie-poopoo's on that side they were not worried about them being there at all.
I am a worrywart by nature when it comes to my pets. And to be completely honest I have been excited about this coop, but so fearful about my beloved girls getting hurt by a predator. We have a lot of mountain lions, coyotes and other creatures around here. In fact, Sunday we were looking out our front window only to see a very large coyote running thru the empty field infront of our house. Of course that made me go outside and take a count of our kitties who reside outside. Everyone was there! YEAY! So while we were outside planning where the coop would sit I started thinking about the predators and already stressing about them being outside. I would keep them in my master bathroom forever if I had to! While measuring and looking around the window in the garage on that side of the house made something click. Why can't we build a coop in the garage with the window being the entrance/exit for them. What a great way to keep them from danger at night when the creatures come out looking for prey! I said something to Chris and *boom* that was it.
Thankfully we have a large garage so it doesn't inconvenience us at all. The coop should be done tomorrow, then the inside will need to be done. It is WAY larger than it needs to be for 6 chickens. I figure it will give us room to grow if we want to. :)
Here is our work in progress!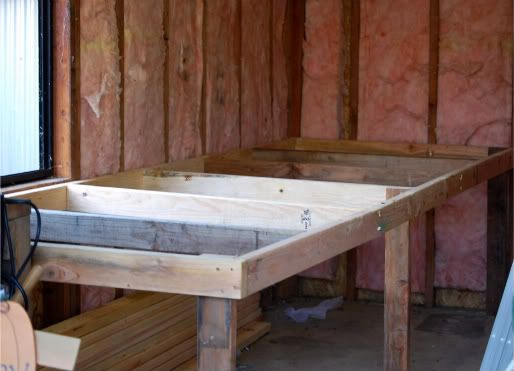 And the girl having a blast in the coop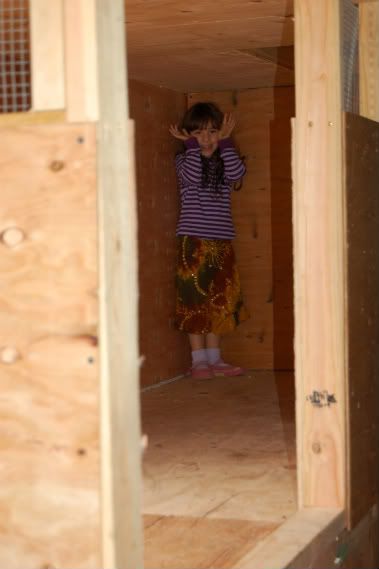 Excuse the mess. Those are our holiday decorations which will be stored underneath the coop.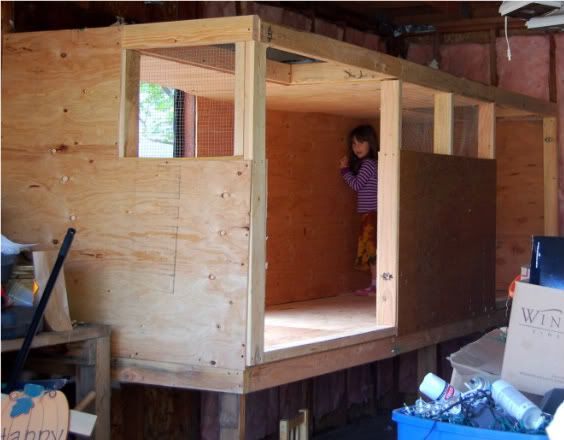 The chicks have been getting treats here and there lately. They have had yogurt, mealworms and fresh greens. They are happy campers! I can't believe they are already 4.5 weeks old!
This has been such a great learning experience for Maggie. She is really into the chickens. She helps feed, water and clean their area. Surprisingly she still pets and holds them. I thought for sure now that they are bigger she would shy away from them, but so far so good. She is really enjoying them. So are her mama and daddy.