We were at our local Farmer's Market about a month ago. There was a woman there selling Hot Pepper Jelly, so of course I sampled it! It was absolutely delicious! Since that day I have often thought about the jelly, talked about the jelly, searched for recipes, etc. Last night I finally got off my bum and made the jelly! I was pretty surprised at how easy it was.
You can use either green or red peppers...or I guess if you wanted to you could use orange, purple or yellow. I have never seen anyone use them, I have only seen green and red. I prefer the red. It's a little sweeter, in my opinion.
Here is the recipe I used:
1/4 c chopped jalapenos
3/4 c chopped sweet peppers
6 c sugar
2 1/2 c cider vinegar
2 3oz pouches of liquid pectin
A few drops of red or green food coloring *optional*
1. Run the jalapenos and sweet peppers in a blender or food processor until they are finely ground. Combine with sugar and vinegar in large saucepan. Bring to a boil over high heat, stirring constantly, then turn down the heat and simmer for 10 minutes.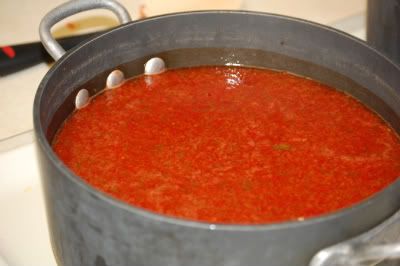 2. Strain, returning the liquid to the saucepan. Add about 2 tablespoons of pepper mixture from the strainer. (here is where I would have strayed a bit from the recipe, I would have just kept it all in there. I like a little more of the "pieces" in the jelly). Return to a boil. Add pectin and the food coloring if you're using it. Bring back to a boil one more time and boil for 1 minute.
Ladle into freshly sterilized jelly jars with two-part canning lids, leaving 1/8 inch headroom, and seal. Process in boiling-water bath for 10 minutes.
This recipe makes about 6 8oz jars.
Happily it was totally set today at lunch time so we opened a jar, got out the cream cheese, dry salami and crackers and had a snack lunch. Between Chris, Maggie and I, we were pretty happy with the taste. The jelly is a bit sweet, I will add a bit more of the jalapeno ribs/seeds next time for just a tad bit more heat.
Can't wait to serve this at Thanksgiving and see what everyone else thinks!