Autumn has finally made it's presence here in Northern California. YEAY! I am so excited about the changing weather. There is something about Fall that brings out a different side of me. Almost like a kid again. This is my favorite season. It's also when I feel more inspired "school" wise. I have lots of fun activities that I have been thinking about, hopefully we find the time to do them!
This week started out on a sad note. One of our feral kitties,
Licorice
got hit by a car and is no longer with us. :( Even though these kittens are feral they hang out at our door, look in thru the screen, sit and talk to us. They
want
to trust us, but they are just a bit too scared. We got to know and love Licorice even though we never got to touch him. RIP Licorice.
Maggie and I did some weeding and tending to the garden this week. Not a lot to report yet. Everything is growing pretty good. One of my onions is questionable, but I am hoping it turns out ok. I think I may have a slug going after my broccoli. I asked about natural slug repellents on
The Gardening Nook on THL
. I got lots of great tips. I really liked the suggestion of putting beer in a small lid, slugs are attracted to yeast and go to get it and never come out. I am concerned about the kittens drinking it. So I think I am going to try the ground up eggshells and dried coffee grounds. I am looking forward to planting potatoes and garlic hopefully this week!
Maggie and I are working diligently on our Autumn Nature Table. I put up the table, washed the table cloth and runner. Got out the little scarecrow. Today we will go hunt the neighborhood for signs of fall. I will post pictures of the table when we are ready! :)
Yesterday we had a birthday party to go to. Maggie had a blast. Our neighbors son turned 9. His sister and Maggie are good friends, so of course the girls took off in one direction while the boys ran in the other.
The Chickies are growing like little weeds! I am shocked at how quickly they change! They sprouted their tail feathers, their wings are much longer and they are getting taller! They are just a week and a few days old. We are just in love with them. I tried to convince Chris to let me name the last two Ellen DeHENeres and Meryl Peep but he isn't having it. So they are still nameless. Who would have thought naming chickens would be so hard! I took this picture on Wed, I thought it was so cute. I wish all 6 would have gotten in the picture. Little fluffy chicken butts!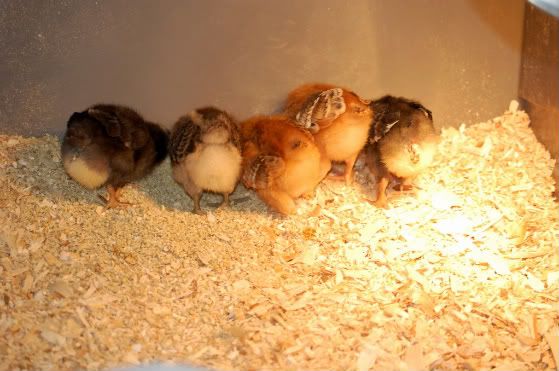 Well, since I started the post off in a sad manner, I thought I would post something sweet towards the end. Coraline (Licorice's mama) had another litter of babies! I was working in the garden on Friday and noticed Coraline sitting a long the fence by the woodpile basking in the sunshine. I always make it a point to walk to her when I see her and talk to her and pet her. Well, I got closer and what did I see? 4 fluffy little balls of cuteness! They looked to be about 4-5 weeks old. One was already hissing at me. So I thought I better get a hold of them now because in another week I may not be able to. I then started to panic about where I was going to put them. The chickens are in my master bathroom. Can't put the kittens there. My dogs are crated in the garage and could NEVER tolerate kittens meowing. I already have 3 indoor cats that would NOT be pleased with Coraline and her crew invading their space. The shed is full of firewood. Then my "partner in cat crime" happened to drive by. She has a very large home with several garages. She packed up Coraline and kiddies and took them with her. They are now sleeping in one of her garages (which is about the size of my house!), nice and warm. Maggie was REALLY missing Coraline yesterday morning because usually she helps feed her in the mornings and we spend time giving her love. So we went last night for a visit. Maggie was so happy to see everyone safe and warm. I took a couple pictures of the little cuties while they were here. There is one that is pretty pudgy and ends up on it's back all the time. I just love it. I wish I could keep it, but with 3 indoor cats and 3 outside kittens already, I just can't.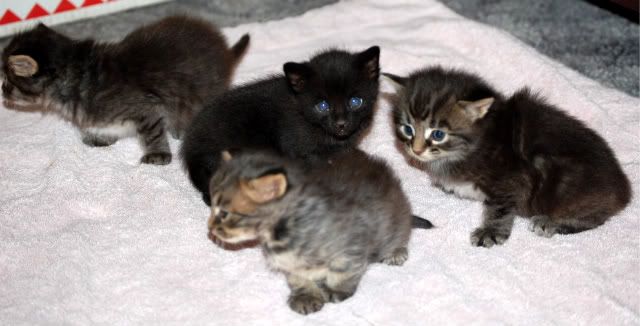 Needless to say, these will be Coraline's last litter. She will be getting spayed as soon as the vet says it's ok!
Again, please people. If you have animals that go outside, please, please, please spay or neuter them. As cute as these little creatures are it isn't fair to keep the unhomed population going.
This morning I threw together some apple cider in the crock pot...smells SO yummy! I made Maggie and I some homemade cinnamon rolls. My house has never smelled so good! I am baking some artisan bread right now and am going to make some Butternut Squash soup for dinner. I have had this butternut squash for a week now, it's been begging me to make soup out of it!
I hope everyone had a great week and that your weekend is going well!